Investing in Grote LED Lamps Will Save Your Fleet Money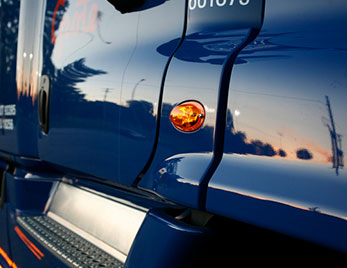 Today's fleet managers know that incandescent bulbs are quickly becoming obsolete in favor of LED technology. Fleets of all types are looking for cost effective solutions to maintain their vehicles, improve compliance with safety regulations and improve visibility on the road, without spending more than your budgeted amount.
Whether you operate a fleet of tractors, off-road utility vehicles, heavy duty trucks, light duty trucks or vans, trailers or even passenger vehicles, investing in LED lamps from Grote will return significant savings. With minimal downtime, less money spent on replacement lamps and less time spent checking and replacing lamps, your fleet will operate more effectively.
No matter what industry you serve, your fleet has four strategic goals: High profitability, high productivity, low downtime and low cost of doing business. Lamp performance plays a bigger role in those four goals than you might think. With increased focus on safety and compliance around the world, one burned out lamp can lead to lost productivity, unexpected costs and increased downtime. Ongoing replacement of those lamps leads to further costs over the life of the trailer or vehicle. In the US,
CSA infractions
for lamp failure drive up operating budgets. Grote's products can help with all of this.
Yet, buying LED lamps from Grote still represents a significant investment. When your fleet's budget is tight, you must decide whether that investment is worthwhile. Understanding how much you stand to save over the lifetime of your LED lighting system will help you make the most informed decision.
A Case Study
How much can you truly save with Grote? Consider this case study:
If a long Class 8 trailer requires 15 LED lamps, then a fleet of 1,000 trailers would require 15,000 lamps. Your fleet may be able to negotiate a price of $165 per trailer for the necessary lamps from Grote. That equals a total cost of $165,000 to outfit your trailers.
Because our lamps are designed to outlast their trailers when used with our harness systems, we will assign a 15-year lifespan to the trailer with the LED lamps. With no unplanned maintenance or CSA points, the $165,000 cost is all you will have for these lamps.
Compare this to incandescent. The average 1,000-trailer fleet will experience 3 failures per day. The costs and penalties for this range between $50 to $300 per inspection. Averaged out over the life of the trailer and combined with the average cost to change or repair these bulbs, and you have a cost of $3,000,000 for the life of the trailers.
Of course, you may be considering switching to a less expensive LED lamp instead. Again, these lamps will fail, although at a lower rate than the incandescent lamps. With an average failure rate of once per 15 years per lamp, you still have maintenance costs of $1,400,000.
So how much can you save by using Grote? The answer, in this case study, is millions of dollars. Your savings will depend on the size and usage of your fleet, but the savings are significant, no matter how you look at it.
Your lighting strategy must be addressed if you are going to limit downtime and increase productivity to reach your goals for your fleet. A comprehensive lighting strategy with the help of Grote's superior products will help you reach those goals.
Learn more at:
https://www.grote.com/industries/heavy-duty-truck-lights/